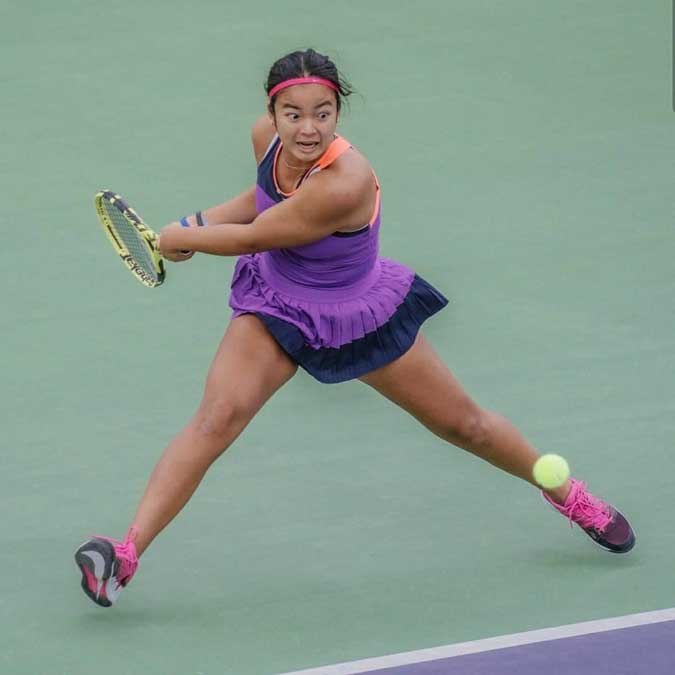 By Michael Angelo S. Murillo, Senior Reporter
FILIPINO tennis ace Alex Eala advanced to the next round of the International Tennis Federation (ITF) World Tennis Tour W25 Platja D'Aro in Spain after hacking out a gutsy (6-3, 5-7, 7-5) opening-phase victory over hometown bet Alba Carrillo Marin early on Thursday (Manila time).
Fifteen-year-old Eala held her own against Ms. Marin, who is 10 years her senior, in a back-and-forth match that lasted for three hours to stay alive in the competition.
Ms. Marin raced to an early 2-0 lead in the opening set before Ms. Eala found her footing and won five of the next six games to take a commanding 5-3 advantage. She then moved to close out the set and go up, 1-0.
The second set saw the Spanish player going on another strong start, building a 3-1 cushion. But unlike in the opener, Ms. Marin was able to withstand the spirited charge back by Ms. Eala to force the contest to a deciding third set.
In the decider, the two engaged in a nip-and-tuck affair, fighting to a 5-5 count. Ms. Eala though would catch a break after, breaking her opponent's serve to move up, 6-5, and then icing the match, 7-5.
With the win, Ms. Eala, a Rafa Nadal Academy scholar and long-time Globe ambassador, earned a date in the second round against Spaniard Irene Burillo Escorihuela, who is the no. 265-ranked player in the Women's Tennis Association singles rankings.
Ms. Eala is also seeing action in the doubles event in the tournament with partner Oksana Selekhmeteva.
The duo was set to play against the Russian pair Sofya Lansere and Vlada Koval next.
Ms. Eala's current showing is a continuation of her solid performance as a professional.
She won her first professional singles title at W15 Manacor in Mallorca, Spain, in January then recorded three consecutive quarterfinal appearances in her next three tournaments.