SM Foundation's Kabalikat sa Kabuhayan opens opportunities for urban dwellers amid COVID-19
Even with limited space, urban dwellers can plant and grow their own food. Not only will they get to harvest vegetables and fruits right from their backyards, they can even sell some and get additional income.
When Hiyasmin Baling and her husband Gabriel Balsa learned urban farming through the Kabalikat sa Kabuhayan (KSK) on Sustainable Agriculture of SM Foundation, Inc. (SMFI), they found an opportunity to earn in spite of the disruptive pandemic.
Ms. Baling ran a beauty parlor, which served as the household's source of income before COVID-19 hit the country. When the lockdown was imposed, however, Ms. Baling and her husband decided to focus on planting to keep their finances afloat. In their home in Antipolo, Rizal, they transformed their rooftop into a full-blown garden of vegetables, fruits, and ornamental plants.
As the couple applied the skills and knowledge learned from the KSK training program they were able to harvest and sell quality produce. In fact, they have earned P10,000 from selling strawberry plants alone.
"SM Foundation's KSK program really helped our family, especially during the pandemic. The farming technologies that we learned during the training gave us an alternative livelihood especially now that our primary source of income is not operational," Ms. Baling shared.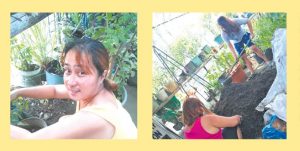 This Farmer's Training program is just one of the facets of KSK, SMFI's program on sustainable agriculture. Launched in 2006, KSK aims to uplift the lives of Filipinos in grassroot communities through sustainable agriculture by means of technology transfer, product development, and farm-market linkage. Furthermore, the program aims to address food security as well as to promote good agricultural practices in communities.
"Our goal is to transfer modern and science-based agri-technologies skillsets to our farmers. After equipping them with modern agritech skills and knowledge, we link them (small- and medium-scale farmers) to available market," Cristie Angeles, Assistant Vice-President for Outreach Programs at SMFI, shared in an e-mail interview with BusinessWorld.
"Aside from increasing our farmers' income because of better produce, we were also able to help in ensuring food availability to families — specially in grassroot areas with limited spaces. By equipping them with knowledge on urban farming, we are able to augment the nutritional needs of families specially in urban communities," Ms. Angeles added.
"To strengthen community involvement, KSK adopts a 'Big Brother and Small Brother' strategy, where farm schools and learning sites act as big brothers to smaller farmers in the community. By using this strategy, volunteerism is also promoted in the community through on-site mentoring sessions of the established farmers to the smaller 'agripreneurs'," said Ms. Angeles.
In selecting the beneficiaries of the program, SMFI usually includes beneficiaries of Pantawid Pamilyang Pilipino Program (4Ps) and indigent residents identified by community leaders where each KSK is implemented. To further strengthen the effectivity of the program, SMFI forged a partnership with the Department of Agriculture (DA), Department of Social Welfare and Development (DSWD), and local government units. These government agencies provide additional support to the KSK participants like lending idle lands where they can begin their communal gardening. Produce planted by the participants are then sold within the barangay.
KSK also strengthened its institutional partnerships by collaborating with the Technical Education and Skills Development Authority (TESDA), SM Supermalls, SMDC and SM Markets.
Through these collaborations, TESDA integrated scholarships for Organic Crops NCII and Agricrops NCIII certifications — which were granted to 271 KSK farmer-participants in Sta. Ana, Floridablanca, and Porac in Pampanga; Olongapo City and Botolan in Zambales; and Bamban in Tarlac.
While through the different business groups of SM, SMFI was able to create farm-market linkage through the Good Guys Market and the Green Lane Initiative.
The Good Guys Market is a weekend market set up in SMDC properties to connect small-scale farmers directly with consumers — condo residents. This initiative links around 26,000 small-scale farmers directly with consumers.
The Green Lane initiative, on the other hand, which was piloted at SM City Pampanga offers a wide variety of quality yet affordable indoor plants, landscape plants, and flowers which cater to every plant parents' preference in the home improvement project. Led by the wives of the KSK farmers, this social enterprise concept is set to be replicated in other SM malls to cater to more "plantitos" and "plantitas" nationwide.
"During the lockdown, produce from the demo farms were shared by the partner schools to their communities. Farmers were also able to sell to SM employees, and they were able to participate in mall activities such as those [catering to] plantitos and plantitas," Ms. Angeles added.
More recently, SMFI's KSK program embarked on bringing its training to urban areas through an urban gardening program, benefitting the cities of Pasig, Mandaluyong, Manila, Quezon, Pasay, Muntinlupa, and Taguig.
In Taguig, particularly, KSK's 12-week long program served 133 participants from Barangay Ususan, all of whom are beneficiaries of the 4Ps. One of them is Jamiliah Bationg, a 42-year-old housewife, who found the training to be a great help to 4Ps beneficiaries like her. As she cultivates vegetables in container pots at her home, she no longer has to buy fresh produce, hence saving money for her family's other needs.
In addition, Ms. Angeles observed that KSK participants are greatly helped by the training imparted to them by SMFI as the COVID-19 crisis has put their enhanced skills to the test.
"It is nice to know that during the pandemic, participants were able to appreciate the program more," she said. "[It's nice to see that] some were even enterprising enough that they were able to make and sell fertilizers and vegetables. Participants also shared their produce with the underprivileged."
As of 2019, the KSK covered almost 3,360 barangays coming from over 880 cities and municipalities, bringing sustainable agriculture and farming skills to more than 26,700 farmers in both rural and urban communities. — Adrian Paul B. Conoza